The plan today is to have flights off Lejar mountain on the Target, converting to the prone position, slow flight appreciation with a possible stall.
After breakfast we meet at the workshop, where I get stirrups fitted to my harness, and try the prone position on the simulator. We load up and head for the top, where we rig the gliders. By the time we finish our inspections, the wind has picked up and it starts to rain. We put the gliders flat and run for cover in the van. There is a break in the cloud, so Tony advises that we might be able to fly later, and true to his word about 45mins later the rain stops and the wind drops to a moderate level.
Antonio goes first, so we wait for him to land, before Paul (another student)) can take his turn. By the time Paul is ready to take off, the wind is gusty and short after that it starts to rain. We decide it is not looking good so we quickly de-rig and leave.
We meet later in the local café and sit our CP exams, which we pass. I'm a bit disappointed, as this is the last day, and I've not achieved what I came to Spain for which is a CP rating.
We get all our paperwork completed, and I find out I only have 4 more tasks to complete to enable me get the CP (Tow) rating.
Conversion to prone
Slow flight and Stall
Planned Approach and Spot landings
12 school circuits
It has been a very busy 2 weeks, Tony and Rona Webb have worked very hard, and I have achieved a lot and enjoyed myself to an extent.
I now have to think about how I'll complete my CP, as going back to Spain is not looking like a viable option due to family and work commitments.
Could this be a set back that could end the dream?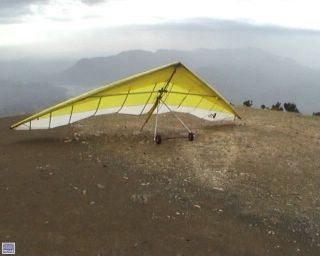 My Target waits for a flight off Lejar mountain.